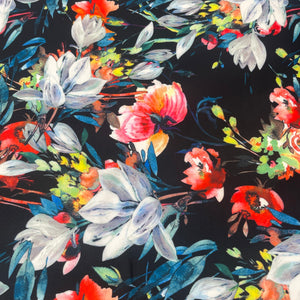 Fabric, Scuba Print Fabric, Topical Floral Scuba Fabric per 1/2 yard
Fabric, Scuba Print Fabric, Topical Floral Scuba Fabric is a lofty double knit fabric of finely spun polyester fibers that create a super smooth hand, low luster sheen and a full-bodied drape. With 30% stretch across the grain and 10% vertical stretch, this unique knit is perfect for creating bra cups, bralettes, underwear, knit dresses, knit apparel, skirts, pants, unstructured jackets and heavier tops. It's not just for underwear!
Sold by the 1/2 yard
Scuba knit is created using a very fine gauge knitting machine and smooth thread. It also has a slightly spongy quality, similar to what you might see in a fabric for wetsuits, but it's much thinner and more malleable. It has a lot of body, and drapes well.

Uses:
The Scuba Print fabric can be used for bra cups for small to medium cups without any lining, and for large cups with a lining such as sheer cup lining behind it. It makes some wonderful and colorful bralettes and panty sets. Customers also use it for lightweight tops, dresses and unstructured jackets.

Details:
Sold by: the 1/2 yard
Width: 58-60″ (147-150 cm)
Stretch: stretch in the crosswise direction from selvage to selvage (self-finished edge of the fabric)
Finish: matte
Content: 94% polyester/6% spandex
Care: Machine wash and air dry, as you would any quality fabric
Uses: Bras, bralettes, camisoles, lightweight tops, dresses or even unstructured jackets.
Sold by the 1/2 yard
Read more...