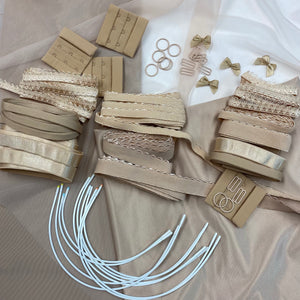 Gigi's Ultimate Bra Test-Fit Kit
Gigi's Exclusive Ultimate Bra Test Fit Kit provides all of the fabrics, elastics, findings and underwire combinations you need to find and complete your perfect fit for a bra pattern.  This is everything you need to make at least 3 test fit muslins and 1 final perfectly fitting bra!
When taking the time and effort to make a test fit, it is absolutely critical to use fabrics and elastics with the same stretch as the final bra.  Many sewists have faced the frustration of making a series of muslins to perfect the fit only to find the final fabric has a different weight or stretch and all of the time and effort was wasted.  No more!  This test-fit kit contains the exact same materials with the same quality and stretch and weight that you will use in your final bra – removing all of the guess work and frustration!
Use this video guide to measure your Bottom Cup Depth (BCD) to determine which size kit to order.  
What's included:
A huge amount of fabrics including Sheer Cup Lining, PowerNet and DuoPlex
Rings & sliders, and hooks & eyes for 4 bras
1 pair of measuring underwires
Full Color printed underwire charts to size for Short, Regular, Long, Vertical, Extra Long and Super Extra Long wires
6 pair of underwires* to match the pattern guide and match your measurements
Yards and yards of top band elastic, bottom band elastic, underwire channeling and strap elastic
Printed description of everything in the kit
Online tips and recommendations to help you create your test fit bra muslins to get the right fit for you
*Extra wires can be returned for store credit or refund, your choice, at the full retail price of the wires.
Getting a perfect fit can take a few tries. So Gigi's designed this Ultimate Bra Test Fit Kit to give you plenty of fabric, findings and even underwires so you don't have to stop and order more supplies.
The sheer cup lining lets you see exactly how the bra is fitting. It's the same sheer cup lining we recommend to use under lace.  This means that, not only do you have the material to make a finished bra, but you can also convert one of your test bras into a regular lace bra by adding the lace of your choice!
If you're just getting started, how do you choose the right wire?
We agree! It's hard to know which wire to choose, so we'll send you several professional underwires to match your measurements so you can test which work best for you. Extra wires can be returned for store credit or refund, your choice, at the full retail price of the wires.
Read more...